The Most Romantic Bedroom Paint Colors
Ready to hit the sheets? We'll be your bedroom-designing wingman.
Creating an intimate Master bedroom follows the same basic logic that we learned in the dating game – lead with subtle flirty hints and tease soft elements that nudge you in the right direction without being overly forward – which could be a major turnoff in either scenario!
It's also crucial to remember that even if sleep is the last thing on your mind when deciding on the perfect paint color for setting the mood, your bedroom is still, in fact, a bedroom. No one wants to take the walk of shame to the hardware store the next morning for a different paint color, so we're here to help you choose the perfect paint color…the first time.
(Inspo image credit – Joyfully Growing)
Blue
Blue, known for its dreamy relaxing qualities, has been shown to promote feelings of calmness and relaxation – perfect for winding down together after a long day.
Blue, which is serene in nature, is ideal for implementing a monochromatic palette that won't be overwhelming. An easy trick to add dimension into a single-color space is to pick your favorite shade of blue, and then go lighter and darker from there with your accents. This will keep the space interesting and avoid flatness.
Pair With:
White, light gray, or beige to create balance.

Wood and woven materials anchor the space, adding a nice warm texture that contrasts against the cooler blues.

Brushed gold adds a touch of sophistication and elegance.
This palette will evoke calming beach vibes that will have you and your partner feeling relaxed and ready to connect with each other, and you'll both want to stay in bed longer on weekend mornings.
(Inspo image credit – Heneen's Heaven)
Green
Going green is a great choice for the bedroom, as it is gently refreshing and will help both mind and body to reach a state of deep relaxation. Green is also thought to be linked to positive thinking, and some cultures associate green with attracting abundance. Use a dark shade of green to create a lush, moody atmosphere, or stick to lighter shades of green to keep things light and airy – especially in small spaces. 
Pair With:
Earth tones will look natural with green. Try a creamy off-white, beige, browns, and dark gray.

Add a playful pop of pink that will have you both blushing.

Using wood will add warmth and grounding.

Gold is beautiful to pair with green and instantly adds a touch of glam.
Earthy doesn't have to be heavy, especially if you start with a light green base that will lighten any heavier elements like dark woods or metals. Green is a natural stress reliever that will help you leave the world outside the door so you two can be fully present and relaxed.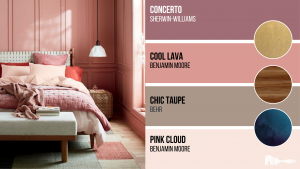 (Inspo image credit – Crate & Barrel)
Pink
Pink can be playful and tantalizing, but a softer pink is serene and embracing. A muted mauvey pink is the ideal backdrop to build on with lovely details that will create a space that isn't overly girly but retains pink's softness and optimism.
Pair With:
Warm neutrals will ground the pink. Go for dark browns, gray, taupe, or beige.

A touch of blue enhances pink's hopeful qualities while adding depth to the space.

Dark wood finishes are beautiful and elegant, providing great contrast and a masculine balance for warmth.

Combining pink with gold will give you a chic space, while shiny silver elements add light and coolness.
Play with textures such as creamy-colored fur, a thick knit blanket, and tweed accents to create a cozy ambiance that will encourage an abundance of cuddles and kisses.
A Few Quick Tips
Coordinating is better than matching. Choosing different shades of your focal color adds a modern sophistication and keeps your room from looking like grandma's matching upholstery from the 80s.

No red. Using red in the bedroom is not only cliché, but also a horrible color if you ever want to be able to sleep in your bedroom. We're going for a love nest – not a fast food joint. However, if you truly love red, keep it as a subtle accent color rather than the main showstopper so your partner won't start craving a cheeseburger mid-moment. 😉

Dim the lights. Using lamps with soft white bulbs will do wonders for creating the right ambiance. Turn off that sterile overhead light and thank us later.
Final Thoughts
If you're not sure how to get started, we recommend sticking to a lighter color on the walls so it won't overwhelm the space. It's easy to create depth and interest by adding darker or bolder pops of color through the use of accents, gradually building up over time.
Unlike in high-traffic areas of the home where we always recommend a sturdier finish like semi-gloss, we love using a matte paint finish on bedroom walls, as this absorbs the light to create a softness in the space. This feels grown up and sophisticated in any color – perfect for use in the Master bedroom.
Above all, make your romantic bedroom yours! This is your space, so remember to bring in those personal touches, creating an intimate Master bedroom for you and your sweetie to connect in.
Ready to paint? Schedule a free quote today with EmeraldPro Painting to get started.