Easter Decorating Made Easy
A few easy tips and tricks to make your Easter decorating a breeze - without breaking the bank!
Easter is a time when families come together to celebrate, and what better way to make your home feel festive than by decorating for the holiday? But it doesn't have to be difficult or expensive. In fact, with a little bit of creativity, you can easily create beautiful Easter decorations using items you already have around the house. So why not try some of these ideas this year?
Hang a DIY wreath on your door
(Inspo Image Credit: Top Left - Handmade Weekly, Top Right - A Blue Nest, Bottom Left - Prudent Penny Pincher, Bottom Right - A Lovely Day Tomorrow)
One easy way to decorate for Easter is to hang a wreath on your front door. There are lots of different ways to make a wreath, and you can use whatever materials you have on hand or peruse the dollar store to get inspired. For example, you could use artificial flowers, colorful eggs, tulle, or carrots crafted out of yarn.
Another option is to make a wreath out of Easter candy. Grab a foam wreath base from the craft store and use hot glue to attach hard candies (avoid chocolate in case it gets warm!). Be sure to add a bow or some other type of decoration to finish it off.
Place a basket of Easter goodies on your coffee table
(Inspo Image Credit: Top Left - Grandinroad, Top Right - Kiyumie, Bottom Left - Rustic Daisey Store Etsy, Bottom Right - Şengül Cengiz)
If you want to add a little bit of Easter flair to your living room, consider sprucing up your couch with some pastel accent pillows. There are lots of great options available online or at your local craft store. You could go for layered ruffles, Easter egg-inspired prints, vintage Peter Rabbit storybook vibes, or even soft fur that is as snuggly as a bunny.
Rotate the toy box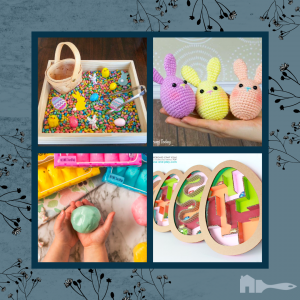 (Inspo Image Credit: Top Left - ArborInspirations Etsy, Top Right - Amigurumi Today, Bottom Left - 123Homeschool4Me, Bottom Right - ReuseAndPlay Etsy)
Easter is a great time to rotate the toys in your home to provide novelty and respark the little ones' interest. This year, why not fill an Easter basket in the corner with some homemade peeps playdough, colorful pop fidgets, and Easter Egg coloring pages?
The tiny tots would love to dig into an Easter sensory bin or snuggle up with a stuffed bunny. If you have kids who are a bit older, they might enjoy cute DIY crocheted critters, or making Easter egg mazes out of cardboard. And don't forget about outdoor activities perfect for Spring weather, like blowing bubbles, a magnifying glass to help explore the yard, or sidewalk chalk for creating adorable Easter curb appeal.
Make an Easter garland
(Inspo Image Credit: Top Left - A Wonderful Thought, Top Right - Re-Fabbed, Bottom Left - DIY Vibes, Bottom Right - Birds Party)
If you want to go all out this Easter, why not try creating a centerpiece to get the conversation going around the dinner table? You can fill a vase with eggs or small candies, stock a straw nest with dyed eggs, or paint dollar store candle holders in playful Easter hues. You could even use real flowers, and get the kids involved by planting them in small hand-painted terracotta pots. There's no wrong way to do it, so have fun with it and let your imaginations run wild!
Final Thoughts
Easter is a joyous occasion, and with a little bit of creativity, you can easily spruce up your home by using objects that you already have. During your next jelly bean sugar rush, grab the family and give some of these suggestions a try!