7 Ingenious Ways To Display Your Kid's "Artwork"
It's time to reclaim your fridge from the fingerpaint portraits.
Happy Mother's Day, everyone! This is a special day to celebrate all of the wonderful mothers out there. One of the honorable benefits of motherhood is becoming a collector of fine finger paint dinosaurs and colorful genetically mutated creatures your little artist has clarified are, in fact, horses. It's so cute and fun to see their creative minds at work!
But what do you do with all of that artwork piling up? Today, we're going to show you seven ingenious ways to display your kid's artwork in your home so you can get their crayon portfolio off your fridge.
1. Hang artwork on a gallery wall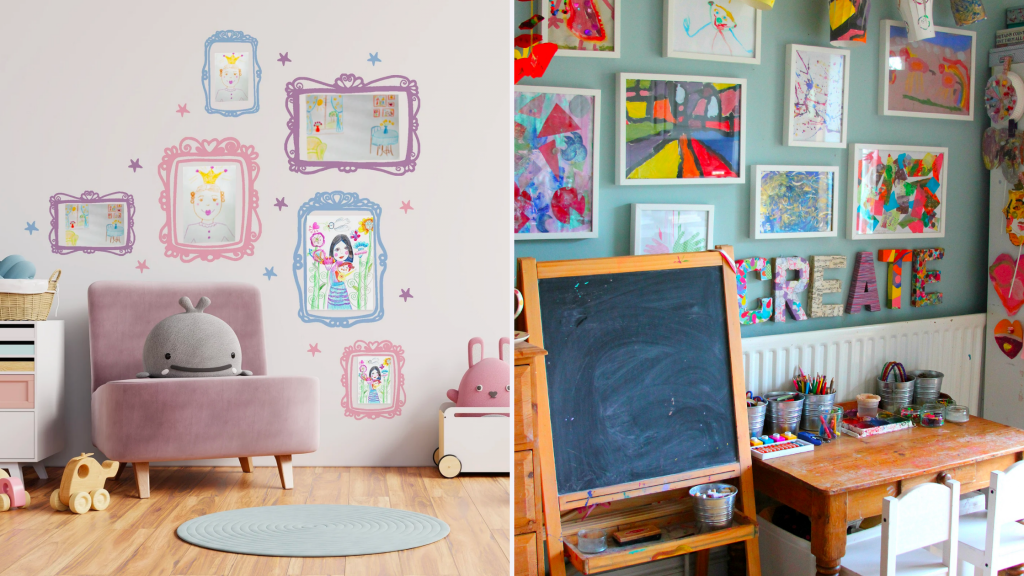 (Image Source - left: ScrappyDoodlesUK Etsy, right: The Imagination Tree)

This is a great way to display a lot of artwork at once. Let your child pick their favorite pieces, and create a fun splash of color along the stairs, in a hallway, or even in their room. To really make a statement, grab a couple of these super cute vinyl picture frame decals to really make that artwork pop.
2. Use a deep picture frame
(Image Source - left: LTD Commodities, right: IKEA Hackers)
If your little Van Gough brings home paintings by the dozen and refuses to throw any of them away, use a front-opening photo frame. These deep frames hold up to 50 items, and display the newest creation while keeping the others safely tucked away. They come in several sizes, perfect for accommodating those oversized paintings from school that don't fit anywhere else. Or, you can DIY with this clever IKEA hack.
3. Display artwork on a picture ledge
(Image Source - left: IKEA, right: Ana White)
Let your kiddos add their work to a floating picture ledge placed at their height! This method requires no frames, no tape, and no thumbtacks for a quick and effortless way to display all the drawings without ruining anything with holes.
4. Use clothespins to quickly hang masterpieces in the kitchen
(Image Source - left: GrowandCompany Etsy, right: SugarAndPaint Etsy)
Ditch the fridge magnets and use clothespins instead! Hot glue clothespins to a painted yardstick or wooden plaque, then mount it anywhere you like. Check out these adorable crayon clothespins on Etsy to add a little playfulness.
5. Make a photo album out of their artwork
(Image Source - Snapfish)
If displaying your kid's abstract artwork is clashing with your more sophisticated style (no judgment!), take photos of every painting and have it automatically transformed into a free photo book. This way, if any of those original drawings were to get lost (or thrown away), they have been safely immortalized in a chic photo album that will be lovingly admired for years to come.
6. Take photos that automatically upload to a digital photo frame
(Image Source - left: The Organised Housewife, right: HGTV)
Short on space? Designate a digital photo frame just for your child's artwork! Digital frames have come a long way recently, many with app integration for easy photo sharing from your phone. This frame even lets you instantly share photos with friends and family - perfect for keeping the grandparents involved in your budding art prodigy's latest pursuits!
7. Create a mosaic to tame the
mess

mass
(Image Source - left: The Crafted Life, right: Artkive)
This is the ultimate solution for displaying a large amount of your child's artwork in a beautiful way that won't look cluttered. DIY it yourself or let a service like ARTKIVE help you turn kid art into a beautiful keepsake you'll be proud to display anywhere in your home. They send you a box, you fill it with all the artwork you want to be included, and they'll take care of everything from professionally photographing the art to styling it into a beautiful mosaic.
Final Thoughts
If you're looking for a way to display your kid's artwork that is both stylish and functional, try one of these seven ingenious ideas. From photo ledges that catch all the loose papers, to fully digital photo frames, there's sure to be an idea here that will work for you. So get creative and show off your little one's amazing artwork in a way that's as fun and unique as they are!